Being a walk-on football player is not the easiest job.  Trust me,
I
know from experience.  The dedication and time is overwhelming. However, the part people may question the most is, why are you doing this for free?  Meaning, scholarship guys have their school paid for, and you're out here under your own terms?  
Kyle Horine
is a 5-10, 180 pound red-shirt freshman from Kingwood, Texas.  While 5-A football in Texas is big, nothing can compare to the size and speed of a conference like the SEC.  So, why be a walk-on?  Sometimes you wake up at 6 a.m. to go lift weights and wonder why you are even here.  When it's 90 degrees outside and you're running sprints, thoughts of all the other activities you could be doing run through your head.  
But, when Saturday arrives and you're
walking through the grove
among thousands of screaming fans, you realize this is why you put in the time.  Walking down the long corridor from the IPF to the stadium, you think, am I really doing this?  You finally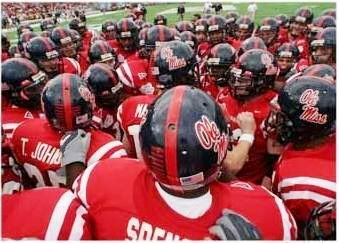 realize the surreal moment when you are grazing over the statue of
Chucky Mullins
, which is outside the tunnel.  And just like the words in scripted on it, "Never Quit", you too will not give up the chance to see the field one day.  
Guys like Andy Hartmann, the current starting fullback, and George Helow, who plays on special teams make you understand that it is possible not only to play, but contribute a significant amount.  Even Dallas Clark, the pro-bowl tight end for the Indianapolis Colts, was a walk-on.  
The biggest thing you will take with you won't be the rough times, but the times you spent with other guys on the team.  Not just on the field, but in the dorms as freshman, or on the square at night.  When you finally decide to hang it up, you will know that every second and every moment you spent as an Ole Miss Rebel will never be forgotten.